Our Story at Paradise Holidays by Ratheesh R. Nath, Director.
Journey of every success company is always a talk about and we too have a nice story.
Though I wanted to become an entrepreneur, I never had the plan to start a tourism company. It was in 2008 when I was working with Ramaiahcollege Bangalore as Lecturer, one of my friend Mr. N.L.N. Murthy asked me about Kerala and told me that his friend wanted to go for his honeymoon.
I literally had no idea about any of the tourist places in Kerala though heard about it. I told him that I have a taxi car at home and shall give you on rent. The driver will take you for sightseeing and will help you to book hotels. You pay me only for the vehicle.
Next day his friend came to meet me and asked me to give a package. He has done some research about Kerala and had quotations from other operators. I tried to convince him to get a trip for my car but could not; I had to tell him that I would give quotation next day.      I started !!        (I always claim, God asked me to do this, otherwise I would have got a trip for my car)
I googled, researched, got quote from hotels at Munnar, Thekkady, Houseboat and finally prepared a package which meets his expectations. I named the company as Paradise Holidays as suggested by my friend Mr. Fasil. It was a 5 days package, which we still use as 5MTH where the guest stays for 2 night at Munnar, 1 night at Thekkady and Overnight stay at Houseboat.
While preparing Itinerary I tried to prepare in a professional way. I sent this quote to my entire friends list in the mailbox, those are days we relied only on emails and social media era has not started too. Some of them forwarded to their friends, some deleted.
Before I could finalize the deal of Murthy's friend, I got an email from Mr. SrihariBelur which was forwarded by my friend Mr. Ajith K.P. and I called him. I met him, explained about the package and convinced him. I got my first advance of 2000/- over a cup of tea at a restaurant in Bangalore. Later Murthy's friend also booked the same package and we continued one by one.
My father Mr. M. A. Raveendranathan has taken care of guests when they reach Kerala and his contribution was inevitable to build up the brand. He used to meet every guest, explain every detail and made comfortable like home which is our success mantra. From the beginning, we tried to follow ethics and professionalism.
We used to be and continue to be transparent and ethical in dealing with the guest, with the hotels and with the taxi people. We still meet every guest before starting the tour and have a dedicated Customer Relationship Centre (CRC).
Meanwhile, I got a job at TATA Technologies, Pune and was deputed to TATA Motors for projects.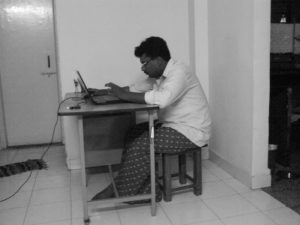 Moving from teaching to IT gave me lot of free time (I have been hearing that IT job takes your entire time and you do not get time to spend even with family, but the culture was so good at TATA and always ask us to leave on time, teaching requires lot of homework if you want to teach properly) that too at Pune without any friends where Bangalore was like my hometown.
I slowly started to concentrate more on business and used my complete time after job to bring this up. I was always behind my dream and took every setback positively, yes we have a lot of examples for this.
I started working from home and my home became our first office at Pune.
As my father was taking care of everything at Kerala, I was able to concentrate only on business development and slowly we started to learn. For both of us, this was a new field and had to learn everything by own. Slowly we started to grow.
I wanted to quit my job and wanted to be an entrepreneur but as usual, my family was totally against it. I know you are doing well in business and you will do it, but don't quit the job until I tell you. This was my father's words. In Kerala getting a marriage proposal from a good family with good qualification is impossible if you are businessmen irrespective of how you perform & was very easy for a TATA staff.
I got engaged with TATA tag in 2010 and marriage was fixed for 2011 mid (big gap of 1.5 years) as we wanted her to finish MTech. before marriage.
Enjoying life with would-be, I tried to give lights about business and every time she refuses and wanted to go only for teaching. We were doing well at business and all of a sudden I lost my father in 2011 February 7. I was in Kerala at that time for a short holiday. I had two choices either continue job or come back to business. If I continue at Pune I had to wind this up as without a strong hand in Kerala, I can't do anything sitting in a different place.
All my staff, drivers, I had to literally do injustice to them. Meanwhile, I met would-be father in law and asked his advice, he also told me to come back and continue with business. I felt that day came and my father asked me to come back, I never went back to Pune.
Lot of responsibilities, everything in the middle I felt blind, my mother gave me full strength and stood behind me and said – You have to take charge of everything father started, I still remember those words, again put same hard work and prayers.
Currently, my wife is part of Paradise family and is Director of Operations. She takes care of our Customer Relationship Centre (CRC) and meets every guest before the start of a tour and make sure they are comfortable during stay with us.
I take care of another office where we concentrate on business development. We have staff for every department who are knowledgeable in respective fields and the dedication and affection they show to the company is the major reason for where we are now.
We do have our CSR Initiatives and are helping poor children for their education. Raveendra Foundation, our CSR wing is working with the involvement of every staff works at Paradise.
I bow myself towards my father Late Mr. M. A. Raveendranathan without him I would not have built this brand, my Director at Ramaiah School of Advanced Studies Dr. S. R. Shankapal who has been my mentor, my inspiration and a lot of words can convey, my uncle S. S. Pillai where I used to see an ideal businessmen from childhood and my brother in law Dr. Sudeesh Kumar who supported me during my difficult times and gave the courage to come back from Pune.
I am also thankful to my father-in-law Mr. P. K. Ramankutty who had the trust in me to give his daughter when I left the job to come back.
The story continues with a lot of happy guests. We thank all our well wishers.